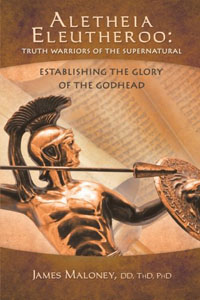 Aletheia Eleutheroo ("uh-LAY-they-uh eh-loo-they-RAH-oh") is the eagerly anticipated Christian doctrine series from James Maloney.
Not your typical textbook, Volume 1, Establishing the Glory of the Godhead, is written with the same conversational tone and humorous wit that Dr. Maloney's other books are known for. Basic Christian doctrine is not supposed to be boring; it is truth, full of life and the power of God. Our knowledge of God and His Word and Spirit are the basis for a release of the supernatural in our day-to-day activities. And yet in-depth study is difficult for us in our busy lifestyles. What's a sincere Christian supposed to do?
James compiles nearly forty years of study and teaching in Bible colleges around the world and condenses it all into an easy-to-read guidebook, exploring topics such as the inerrancy and infallibility of the Bible; hermeneutics and homiletics; the Trinity; the names of God; the attributes of the Father; the dual nature of Jesus Christ, the God-Man; sin and salvation; and the work of the Holy Spirit in our lives: He seeks to equip us and turn us into Truth Warriors of the Supernatural.
The truth will set you free, and this book can help you know that truth in a greater way than ever before.
Order this book from:
View Cart - 0 Item(s)
or go to...
MP3s Audiobooks E-books The Dove Company The Bride of Christ Power Evangelism Divine Love Prophetic 201 Faith Dynamics Prophetic 101 Healing Covenant
O taste and see that the LORD is good: blessed is the man that trusteth in him. Psalm 34:8