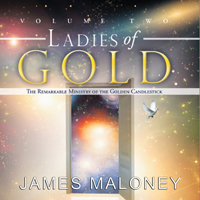 This is the audiobook of Ladies of Gold, Volume 2, downloadable in MP3 format for any digital device. Recorded by a Grammy-nominated production company and professionally narrated, this is an unabridged audio recording. This audiobook is also available at Audible.com.
This product is a DIGITAL DOWNLOAD, no physical item is mailed out. Once purchased, an e-mail is immediately generated with the download link to save the MP3s to your computer.
***PLEASE NOTE: As with all our digital materials, DotR Partners have unlimited access to this product free of charge. Please visit the Partner page for more details on how to sign up!***
The second volume in the best-selling Ladies of Gold series, compiled in an authorized edition by James Maloney.
Some seventy years ago, in a California mountain community, Frances Metcalfe formed the Golden Candlestick, a remarkable covenant fellowship dedicated to worshiping the Lord and interceding for the nations. For more than fifty years, they experienced some of the most extraordinary encounters with the King of Kings, and now for the first time, their complete works are compiled in an authorized, three-volume set by James Maloney, in honor of the heritage they conferred to Dove on the Rise International.
Price: $19.95
View Cart - 0 Item(s)
or go to...
Print Books MP3s E-books The Dove Company The Bride of Christ Power Evangelism Divine Love Prophetic 201 Faith Dynamics Prophetic 101 Healing Covenant
The Lord is good, a stronghold in the day of trouble; and He knoweth them that trust in Him. Nahum 1:7