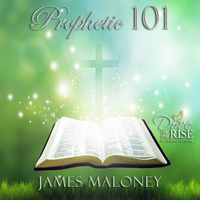 Moses said, "I wish that all God's people prophesied, and that He would put His Spirit on them." All of us, as God's children, need to nurture and develop a prophetic spirit: a discerning heart, a listening ear, and a seeing eye. This teaching embarks upon a new series to help facilitate that development.
This is the first teaching from James Maloney in the ongoing Prophetic 101 series. These powerful teachings are condensed to approximately 30 minutes, and provide a wonderful addition to your daily devotions: on the way to work or cooking dinner, alone or with the family, we believe these teachings will add to your faith and help develop a prophetic spirit to see and hear what the Lord is saying in your life.
This product is a DIGITAL DOWNLOAD, no physical item is mailed out. Once purchased, an e-mail is immediately generated with the download link to save the MP3(s) to your computer. The files can be played on any device: laptops, desktops, smartphones, tablets, MP3 players. They can also be burned to CDs if your computer is so equipped.
***PLEASE NOTE: As with all our digital materials, DotR Partners have unlimited access to this product free of charge. Please visit the Partner page for more details on how to sign up!***
Price: $3.00
View Cart - 0 Item(s)
or go to...
Print Books Audiobooks E-books The Dove Company The Bride of Christ Power Evangelism Divine Love Prophetic 201 Faith Dynamics Prophetic 101 Healing Covenant
Brothers, I do not consider myself yet to have taken hold of it. But one thing I do: Forgetting what is behind and straining toward what is ahead, I press on toward the goal to win the prize for which God has called me heavenward in Christ Jesus. (NIV) Philippians 3:13