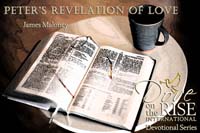 Peter had a divine revelation of what it means to "stretch" agape love to bring the ministry of Jesus Christ to people who are in desperate need of His love to be manifested in their lives. This teaching outlines the importance of having our love stretched by walking in love in our day-to-day lives. It is not always easy, but it is vitally important we make reflecting God's love our priority.
This is the fifth teaching from James Maloney in the ongoing devotional series. These powerful teachings are condensed to 30 minutes or less, and provide a wonderful addition to your daily devotions: on the way to work or cooking dinner, alone or with the family, we believe these teachings will add to your faith and draw you into a closer relationship with the Lord.
This product is a DIGITAL DOWNLOAD, no physical item is mailed out. Once purchased, an e-mail is immediately generated with the download link to save the MP3(s) to your computer. The files can be played on any device: laptops, desktops, smartphones, tablets, MP3 players. They can also be burned to CDs if your computer is so equipped.
***PLEASE NOTE: As with all our digital materials, DotR Partners have unlimited access to this product free of charge. Please visit the Partner page for more details on how to sign up!***
Price: $3.00
View Cart - 0 Item(s)
or go to...
Print Books Audiobooks E-books The Dove Company The Bride of Christ Power Evangelism Divine Love Prophetic 201 Faith Dynamics Prophetic 101 Healing Covenant
And not only so, but we glory in tribulations also: knowing that tribulation worketh patience; And patience, experience; and experience, hope; And hope maketh not ashamed; because the love of God is shed abroad in our hearts by the Holy Ghost which is given unto us. Romans 5:3-5