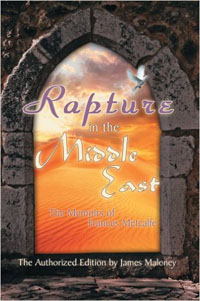 In 1961, Frances Metcalfe, the founder of the Golden Candlestick Company, left her mountain home in California for an extended missionary trip to Israel, Jordan, Egypt, and other nations.
For the first time in print, James Maloney has compiled her memoirs of that powerful excursion in this authorized edition, providing a fascinating and personal glimpse into the life of a modern forerunner in the "seer" prophetic anointing.

Mrs. Metcalfe shares humorous anecdotes, trying circumstances, and revelatory insight, along with compelling, intimate thoughts about the Holy Land and the roles it will play in the end times, while detailing her first missionary journey. And now you can join her as she experiences supernatural times of rapture in the Middle East.
Order this book from:
View Cart - 0 Item(s)
or go to...
MP3s Audiobooks E-books The Dove Company The Bride of Christ Power Evangelism Divine Love Prophetic 201 Faith Dynamics Prophetic 101 Healing Covenant
For with what judgment ye judge, ye shall be judged: and with what measure ye mete, it shall be measured to you again. Matthew 7:2