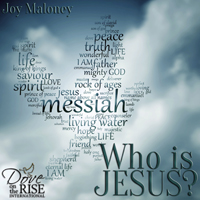 A collection of five revelatory teachings from Joy Maloney on the life-changing subject of Jesus Christ. Who is this Person Christians the world over worship? Is He God? Is He Man? Is He really King of kings and Lord of lords? Where is He now, and is He coming back? Moreover, what happens when He does come back?
All of these questions are addressed in this series, providing dozens and dozens of scriptural proofs that Jesus is, indeed, the Son of God, and EVERY tongue will confess He is worthy to be praised! A great series for those who don't yet know who Christ is, and just as vital for His followers, showing throughout the Bible why we worship Who we worship.
This is the MP3 for SESSION 1: "The God Man."
This product is a DIGITAL DOWNLOAD, no physical item is mailed out. Once purchased, an e-mail is immediately generated with the download link to save the MP3(s) to your computer. The files can be played on any device: laptops, desktops, smartphones, tablets, MP3 players. They can also be burned to CDs if your computer is so equipped.
***PLEASE NOTE: As with all our digital materials, DotR Partners have unlimited access to this product free of charge. Please visit the Partner page for more details on how to sign up!***
Price: $3.00
View Cart - 0 Item(s)
or go to...
Print Books Audiobooks E-books The Dove Company The Bride of Christ Power Evangelism Divine Love Prophetic 201 Faith Dynamics Prophetic 101 Healing Covenant
Create in me a clean heart, O God; and renew a right spirit within me. Psalm 51:10