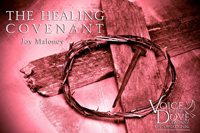 In this three-part MP3 series, Joy Maloney gives a systematic, theological teaching on the covenant of healing provided through Christ's atonement. She outlines the biblical basis for expecting healing in today's age by going through the Old Testament into the New Testament, showing that it is the Father's will throughout time that all of His children be healed not only spiritually, but physically, mentally and emotionally as well. God wants us completely well, and this series will help teach how a believer can appropriate the gifts of healing through faith by sharing frank, no-compromise steps that God has revealed in His unchanging Word.
This download is for Session 2: The Father's Will
Editor's Note: These teachings were taken from cassette tapes, and as such the audio quality is not the same level as digital recordings. However, we believe the material in this series is worth a little "hissing" and "scratching" noises, and we have put our best efforts into improving the sound.
This product is a DIGITAL DOWNLOAD, no physical item is mailed out. Once purchased, an e-mail is immediately generated with the download link to save the MP3(s) to your computer. The files can be played on any device: laptops, desktops, smartphones, tablets, MP3 players. They can also be burned to CDs if your computer is so equipped.
***PLEASE NOTE: As with all our digital materials, DotR Partners have unlimited access to this product free of charge. Please visit the Partner page for more details on how to sign up!***
Price: $3.00
View Cart - 0 Item(s)
or go to...
Print Books Audiobooks E-books The Dove Company The Bride of Christ Power Evangelism Divine Love Prophetic 201 Faith Dynamics Prophetic 101 Healing Covenant
Forget the former things; do not dwell on the past. See, I am doing a new thing! Now it springs up; do you not perceive it? I am making a way in the desert and streams in the wasteland. (NIV) Isaiah 43:18-19