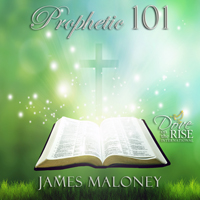 Revelation 19:10 says, "...The testimony of Jesus is the spirit of prophecy." In this teaching, James outlines what that means and how it affects us in developing a prophetic spirit.
This is the second teaching from James Maloney in the ongoing Prophetic 101 series. These powerful teachings are condensed to approximately 30 minutes, and provide a wonderful addition to your daily devotions: on the way to work or cooking dinner, alone or with the family, we believe these teachings will add to your faith and help develop a prophetic spirit to see and hear what the Lord is saying in your life.
This product is a DIGITAL DOWNLOAD, no physical item is mailed out. Once purchased, an e-mail is immediately generated with the download link to save the MP3(s) to your computer. The files can be played on any device: laptops, desktops, smartphones, tablets, MP3 players. They can also be burned to CDs if your computer is so equipped.
***PLEASE NOTE: As with all our digital materials, DotR Partners have unlimited access to this product free of charge. Please visit the Partner page for more details on how to sign up!***
Price: $3.00
View Cart - 0 Item(s)
or go to...
Print Books Audiobooks E-books The Dove Company The Bride of Christ Power Evangelism Divine Love Prophetic 201 Faith Dynamics Prophetic 101 Healing Covenant
Forever, O LORD, thy word is settled in heaven. Psalm 119:89