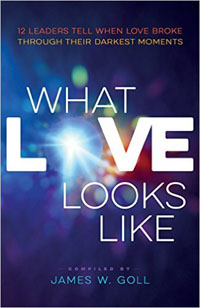 The Church is known for many things. Love is not always one of them.

In this one-of-a-kind compilation, 12 respected leaders share their stories of moments when the agape love of God broke into their darkest moments.

You'll read candid stories from

· Heidi Baker
· Stacey Campbell
· Mahesh Chavda
· James W. Goll
· Joan Hunter
· Harry R. Jackson Jr.
· Patricia King
· James Maloney
· Jackie Pullinger
· Mickey Robinson
· Doug Stringer
· Barbara Yoder

--and you'll begin to believe that it's possible to show a hungry world the kind of love the Bible promises.

If you're feeling worn out, wondering if God can really pour out His love through you--read this book.

These remarkable stories will inspire you to become an outlet of love. And not just any love. The beautiful agape love through which Jesus is changing the world.
Order this book from:
View Cart - 0 Item(s)
or go to...
MP3s Audiobooks E-books The Dove Company The Bride of Christ Power Evangelism Divine Love Prophetic 201 Faith Dynamics Prophetic 101 Healing Covenant
Be still, and know that I am God: I will be exalted among the heathen, I will be exalted in the earth. (KJV) Psalm 46:10